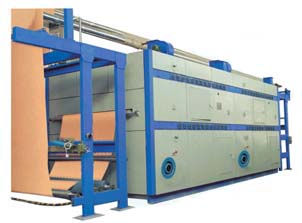 BAKING MACHINE
New features:
All components of the machine are designed according to the fstest speed and durative work state:170m/m,24 hours each day,at least 360 days each year.the technique which needed few maintenance,runs faithfully and with high quantity makes each user benefits from it.We also supply the divided driven device of control roll according to the demandes of users,and this is a new item.。
The fabric tension force which happens when it through hotair drying,can be balanced recur to the divided driven technique.VIROCK,as complement of technological process of exhaust dyeing dry and batch exhaust dyeing,has made a success.The new items are the continuous pretreatment which based on the same principle.

Application:
It is applied to fabric hot melting dyeing,dispersible coloring material baking and resin finished baking.

Features:
1、 One or two modular chamber,small volume and convenient for installment.
2、Great cloth content,high quantity and even temperature can be achieved due to the use of hot-air guiding roller for baking.
3、Large volume of circulating air.Slot forced nozzle is adopted, the upper and lower air speed proportion can be adjusted.